Chloe Lance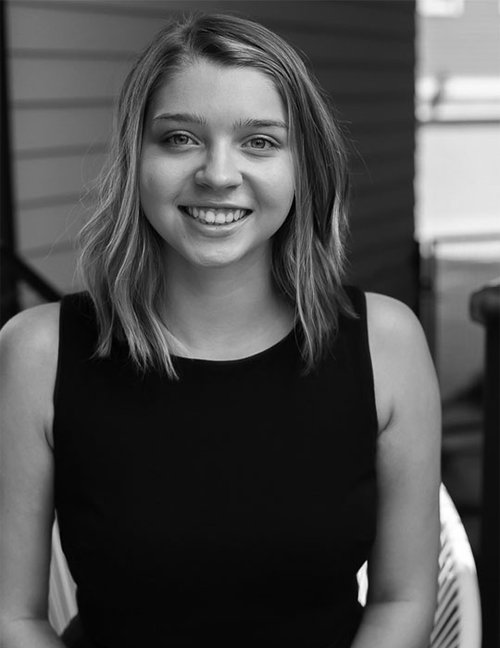 Chloe Lance is an artist from Cumming, Georgia with a concentration in Fine Arts (Studio) and Graphic Design. Her textural abstract paintings integrate color and balance in the exploration for visual calm and peace. She has grown her painting business, By Chloe Art, through participation in a variety of local artist markets in Metro Atlanta and commissions for both public and private collections. Chloe has expanded her skill set in graphic design through online courses and her experience as a teacher's assistant. Because of her public relations position and design internship she has developed an interest in brand design, which she hopes to pursue a career in after graduation. Chloe also plans to continue growing her business, By Chloe Art.
Website: bychloeart.wixsite.com/website
Artist Statement
In Movement, a series of watercolor and texture elements on paper, I create small scale paintings that elicit a calm sensation. Organic curvilinear forms travel fluidly across forty individual panels that feather outwards from the central grouping. The relationship between the negative space of the wall and the continuous lines creates a sense of limitlessness or a glimpse of the Infinite. The colors I use – blue, green, and neutrals – are known to be soothing and restful. The sculptural layers of texture lead the viewer to investigate the relationship between solid and fluid elements, and the space in which they exist. Through repetition, I evoke a meditative and restorative state, encouraging one to investigate their own interiority.
Project Description
My abstract paintings focus on movement, balance, and color to evoke a calming experience. I use watercolor, gouache, and texture mediums to create organic figurative shapes supported by negative space. When I paint, I feel the fluid nature of the paint itself. I want the viewer to feel both engaged and at peace when looking at my work.