Emily Sabonis-Chafee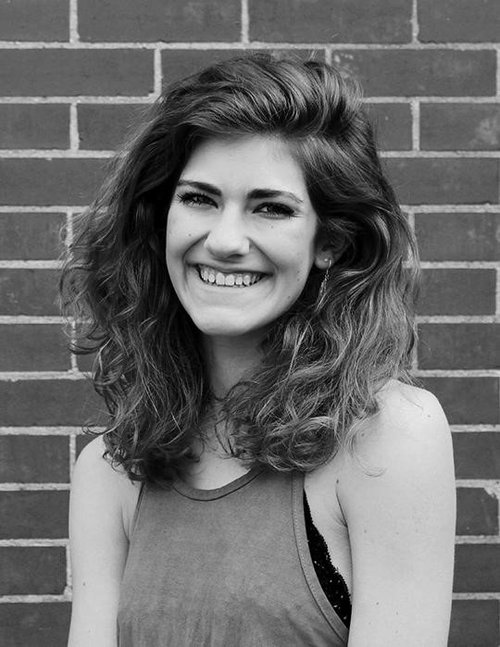 Emily Sabonis-Chafee, from Roswell, Georgia, is a Fine Arts Studio Concentration major at Georgia College & State University. She specializes in painting and photography, often drawing inspiration from personal experiences and her belief that all lives can be improved by art. During her time at Georgia College, she has been involved in many community outreach projects, including murals for Georgia College, murals for the Baldwin County Habitat for Humanity, murals for local businesses, and silkscreen prints for the United Nations Memory Project with Cameroon. She hopes to continue pursuing her passion of making art and aiming to make an impact on herself and others.
Artist Statement
Metamorphosis is about climbing up from rock bottom. The series plays with dark and light as a way of exploring a range of emotions, from melancholy to radiance. Creating art gives us the ability to produce something positive with our negative emotions, generating an outlet to express pain through non verbal means.
This series of collaged photographs provided an opportunity for reflection upon my process of growth and healing. Art and music have always been my therapeutic tools of choice, acting as escapes from the outside world. I entitled each image in this series after a song I associate with a specific time in my life, and have enmeshed lyrics from those songs in the backgrounds. The colors build on each other so that the last piece incorporates all of them, but in a way that embraces the light instead of the dark. Without taking the time to reflect upon the past, I don't know if I would ever have come to the realization that I am so much more than I thought I was. While I know I am not fully where I want to be, I know that my journey is not done.
The growth process never stops, we continue to grow and bloom and that dark place we were once in makes us who we are now. Without the dark, there's no appreciation for the light. One would never know how bright, how golden that light is, without first seeing the dark.
Project Description
My work is a series of mixed media pieces that display the importance of personal growth and climbing up from rock bottom. The series is a combination of acrylic paint, encaustic, wood burning and 120mm film photography. The photographs exhibit a gradual opening up, positioning the body to capture emotion and a transformation from small and isolated to big and powerful. Each piece is painted on a wood canvas and includes several layers of paint along with etched words and dripped wax. The photograph on top is adhered to the canvas using photo transfer paper, where the image slides off of its backing and onto a layer of acrylic medium resulting in a more transparent image. My goal was to create a cohesiveness between the realism of the photography and the abstraction of the painted canvas, bringing a two dimensional photograph to life by surrounding it with layered and textured backgrounds.