The Corinthian recognizes student achievement in research by providing publishing opportunities for undergraduate and graduate GC students from all disciplines.
See the Aims and Scope for a complete coverage of the journal.
Current Volume: Volume 18 (2017)
Letter from the editor
This publication is a culmination of hours of hard work, passion, and determination delivered by your classmates and faculty. This journal exudes a level of upmost dedication within various fields of study, and the results certainly speak for themselves. This was my first year working as both designer and editor of the journal, and I have enjoyed every tedious minute of it. The opportunity to contribute to something so significant to our school is an experience I will be forever thankful for. Please, read on, indulge your mind, and take some time to compliment your fellow classmates on their impressive works of academia. I hope The Corinthian inspires you to pursue your own form of discovery!
Articles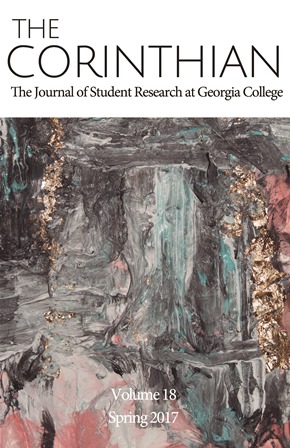 Editorial Board
Editor

Callie McKeel

Copy Editor

Katie Steele

Copy Editor

Caroline Duckworth

Faculty Advisor

Jeff Dowdy

Faculty Advisor

Jennifer Townes