Volume 15 (2014)
LETTER FROM THE EDITOR:
John Quincy Adams once said, "If your actions inspire others to dream more, learn more, do more and become more, you are a leader." Or maybe that was Dolly Parton. Whether this piece of wisdom came from our sixth President or the Queen of Country, the sentiment is what we must remember. Give it a few hundred years and your ideas may be misattributed and misremembered, but that idea still exists in the minds of others. While
The Corinthian
might be a humble publication, what we do her is just what Dolly and John have collaboratively told us. Students don't submit these papers because they have to, but because they want to encourage learning beyond the boundaries of a classroom. And our staff does not create
The Corinthian
because we have to, but because we want to make sure that these ideas and this knowledge don't stay locked up in your computer or in your own head. To the students who submitted, the faculty that mentored and reviewed, and the staff that facilitated the entire process I want to say thank you. Thank you for being the kind of leaders that foster learning, growth, and change.
Articles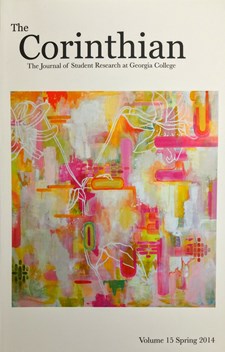 Editorial Staff
Editor

Jodee Westbrooks

Copy editor

Teddi Strassburger

Staff advisor

John W. Bowen