Volume 2, Issue 1 (2022) Winter 2022
Introduction to Volume 2, Issue 1
Undergraduate Research
is now in its second year, and third issue! It has been a labor of love—a successful collaboration between our editors, students, and faculty mentors from around the country. We have had so much support, both institutionally at Georgia College, and nationally, ranging from the students who have submitted their work, to the faculty who spend so much time mentoring students, to all of the subject matter experts who conduct the peer reviews. We couldn't do it without each and every one of you.
When we founded this journal, our vision was that
Undergraduate Research
could be a premiere venue to showcase interdisciplinary undergraduate scholarship and we think we've hit that mark. Along the way, we have discovered so many willing collaborators who were eager to do anything to help students. This includes everyone at Georgia College, as well as all of our external volunteers. Drs. Massey and Liles have been amazing editors, driving this vision for the journal. Furthermore, our editorial board has been extremely active in both shaping the direction of the journal, and offering advice, feedback, and support. They are always willing to pitch in. Finally, all of you from all over the country who have sent out the call to students and encouraged their submissions, we couldn't do it without you.
As with each issue,
Undergraduate Research
continues to get stronger, and we feel this is our best issue yet. It features a diverse range of cross-disciplinary research from different institutional types from around the country—from students at small private institutions to large land-grant institutions. With each issue, the submission process has become more competitive, and while this is the largest issue to date, unfortunately, we cannot publish all of the amazing work that we've received. It is our hope, that we continue to receive high-caliber undergraduate work and that we are able to showcase the best of mentored undergraduate research.
Sincerely,
Jordan Cofer
Co-founder, Undergraduate Research
Associate Provost
Georgia College & State University
Undergraduate Research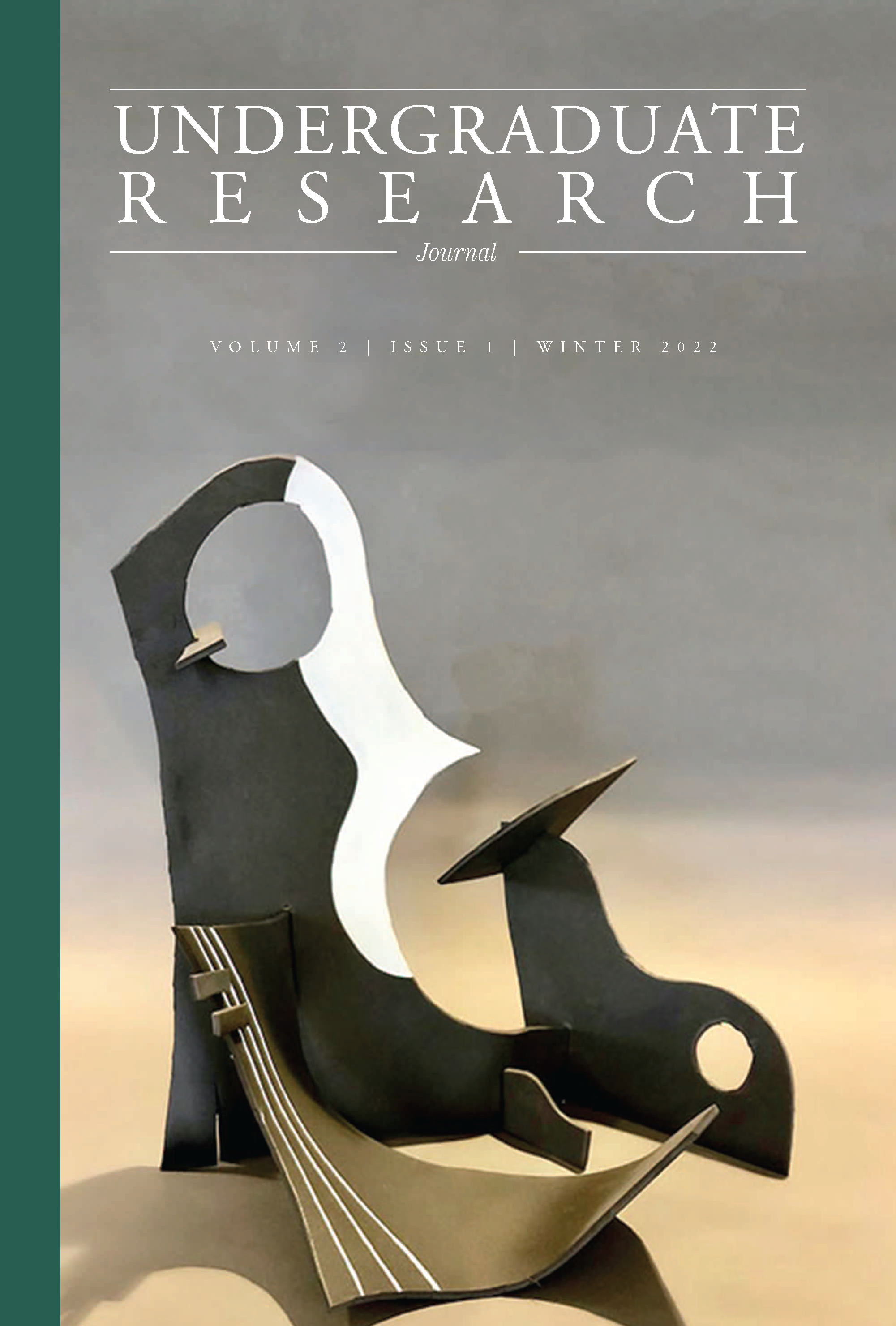 Editor-in-Chief
Kelly P. Massey, Georgia College & State University
Managing Editor
Alesa Liles, Georgia College & State University
Associate Editor
Doreen Sams, Georgia College & State University
Editorial Board
Amie Buddie, Kennesaw State University
Jordan Cofer, Georgia College & State University
Ashley Hagler, Gaston College
Kasey Karen, Georgia College & State University
Jill Kinzie, Indiana University
Huda Makhluf, Precision Institute National University
Marisa Moazen, University of Tennessee-Knoxville
Niharika Nath, New York Institute of Technology
Jeanetta Sims, University of Central Oklahoma
Kate Theobald, University of West Georgia
Charles Watson, AAC&U
Acknowledgements
Cover Art
Jordan Prinsen, Georgia College & State University
Untitled
14" x 7" x 16" EVA foam and acrylic paint
Back Cover Art
Emma Grace Avery, Georgia College & State University
Tears
9" x 12" acrylic on canvas